All Articles
News And Information
Why You Should Film In A Studio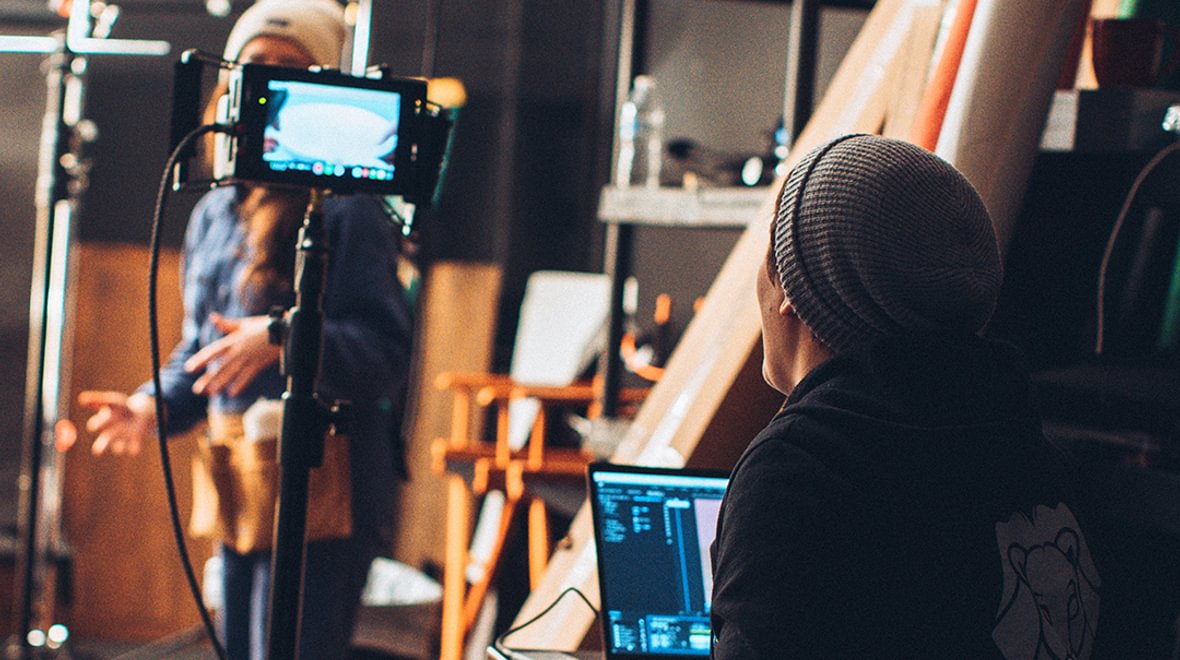 You want quality when it comes to video, but what are you supposed to do if you don't know where to start?
It's an important question, but luckily you don't have to try and answer it yourself. One of the things you should consider from the beginning is not only what to film but where. And you've got options.
Sure, you can film on location. We love field trips. But for those times when you need more control over your environment and quality, your best bet is to film in a studio.

What Is A Film Studio?
A film studio gives you access to the best equipment, a knowledgeable and friendly team of experts, and the ability to create your video exactly how you want. When you rent a film studio - even if it's just for a day - you can use specialized equipment, technology, lighting, and other aspects that may not be readily available in any other situations.

Other Alternatives
Like anything, there are alternatives if you don't want to or can't film in a studio. The most common approach: going on location. This is when you go to the location you want to film in, like a city, beachfront, or office setting. Sometimes, you just can't replace the authenticity of being in the location where the action happens. There are often some limits you have to work with when filming on location, like permits and other factors, that can be prohibitive. You also have to rely on your own equipment and usually have to DIY a lot of things. If you're into that, great. Otherwise, filming in a studio has some benefits. Here are just a few.
Benefits To A Film Studio
Controlled Environment
A controlled environment is a huge perk as to why you should film in a studio. Weather can change anytime (hi, New England), and you don't have to worry about that in a studio environment. Unless you want rain inside, we have tricks to make that happen. Traffic also isn't an issue, which means a major boost in productivity and fewer wasted resources and costs.
We don't have to worry about fluctuations in lighting or all the distractions in a real-world setting. So our crew and talent can stay hyper-focused on executing the plan.

Access To Equipment
The last thing you need when filming a quality video is access to bad equipment…or no access at all. Truth time: people can tell when you use subpar equipment for your project. And don't forget about power sources. Don't get yourself in a situation with a deadline and nowhere to plug in your equipment. Film studios provide solutions to both of these issues.
Going on location means hauling lots of gear miles away and then setting it up. In a studio, the gear feels right at home. The right camera, light, lens, and stand is only an arm's length away.

Knowledgeable Staff and Resources
A film studio also provides access to knowledgeable and helpful team members when and if you need it. As a result, you don't have to worry about doing it all by yourself, which can be frustrating and often wastes precious time.
Sure, you can rent an empty studio. But you can also rent a studio attached to a production team's headquarters. As a result, you can tap into creative directors, directors, cinematographers, and all of the local resources to make production higher quality and more efficient.

Green Screens And Other Technology
Wish you could film on location for specific scenes? Green screen technology means you can do that - without the hassle of traveling or dealing with the weather. Take advantage of this benefit with technological features that give any scene an authentic and competitive edge.
And where technology falls flat, old-school techniques shine. Painting walls, building mini sets, and light art direction can turn a film studio into an entirely new environment.

High-Quality Results
A final reason to film in a studio is to get high-quality results that help you stand out from the competition. When renting out a studio, the quality just gets a bit easier for all of the reasons listed above. In addition, quality is the benefit of having everything under one roof an arm's length away.
There are huge benefits to being on location and capturing authentic environments, but the control of studios allows brands to think outside of the box of their locations and develop a more stylized concept.
With high-speed internet and a consistent location, it's easy to beam your team into a virtual production to monitor quality. Our studios give you options to get the best results and the highest quality video for your business or creative project.
Ready to take advantage of filming in a studio? Rent out space at Animus Studios to get optimal results for your next video project. To give you a sense of what you can do in our studio, take a peak at the video below. Ready to roll? Contact us today.